---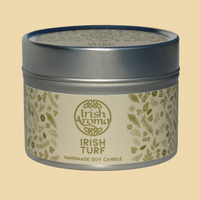 Hasn't arrived
My order hasn't arrived yet
Irish Turf
These are great candles! I started getting them for a friend when her trip to Ireland was canceled due to COVID and now it's sort of a tradition!
Very nice candle
I personally think the vanilla is a little too forward and sweet, but on the whole a very nice smoky turf scent. Shipping was fast. Would buy again.
Have not received it
Have not received the candle yet
Gorgeous candles
Purchased Irish turf and Heather Candles and they are both lovely. Smelt exactly as labelled. Very happy. Gift for my daughter who is living abroad and missing home
Inspired by the smokey scent from Irish Turf is this very distinctive, rich aroma of Ireland. Starting with warm comforting earthy woody notes of soft precious woods. All resting on a base of Cedarwood, Patchouli infused with hints of sensual woody aromatic spicy accords, amber, vetiver, vanilla & moss.

Handmade with care in small batches in Carlingford Lough, Ireland.

4oz/100ml Candle: Burns approximately 15/20 hours. Container is aluminium with a slip lid. The size is 64(D) x 45(H) mm.

Always observe basic candle safety when burning any candle! Candles should never be left unattended while lit. Do not burn a candle for more than 4 hours at a time to get the most efficient burn time. Candle containers get HOT so always burn on a heatproof surface and be careful when handling. Try to wait until the wax has completely re-solidified.

No dyes and only 100% natural soy wax is used in all Irish Aroma candles. We strive where possible to use as many natural ingredients in our candle fragrances as possible but proper care should always be taken to dispose of the candle properly when finished. Our containers are 100% recyclable and can also make great storage containers when cleared of any wax debris using some just boiled water!